On a more professional subject, I started working with video when I was 16. From there I learned and worked my way through movie producers, broadcast, game studios, marketing agencies and the music industry. My expertise in storytelling and 3D animation took me to my current role as an animator at Ready4Player, where I focus on animation and video editing for cinematic and commercial purposes.

My set of skills, experience, knowledge of tools and versatility is unique. Over the years I've worked my way to be not only a great video producer but also a strong writer, content creator, animator, designer and problem-solver. I'm a great asset to have not only on a video or animation team but on any position that requires strong visual narrative skills, with the right balance between creativity and technical expertise.
Outside the workplace you may find me playing video games, tattooing myself, customizing motorcycles, mastering tabletop rpg or just hanging out with my cats.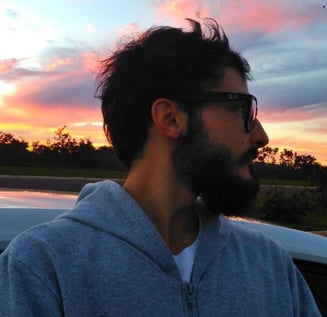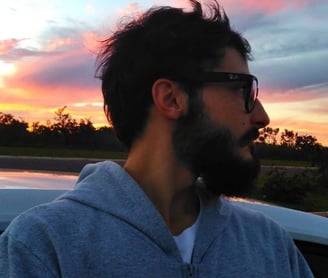 Born in the 90's, I'm deeply passionate about learning new things and doing them with my bare hands (and head). I was always drawn to a more cinematic and artistic approach on life: drawing everywhere, playing different instruments, learning new languages, and of course, taking DIY to the insane level. I tried to balance that with a Master's Degree in Astrophysics, but it actually boosted my creativity with programming and math modeling skills.
W O R K E X P E R I E N C E
Since Dec 2022 (contract)
As part of the animation and narrative teams, my work is focused on creating shots and animations for cinematics, cutscenes, promotional material and writing the storytelling for them. My daily work involves rigging and animating characters, cleaning mocap, building scenes, creating VFX, directing shots, capturing gameplay content and editing all of this material for different purposes.

I also took a good role in lore building, narrative storytelling and history construction for the game's world, especially designing concepts for the intricate magic and technological mechanics of it.
May 2022 - Jun 2023 (full-time)
At the company's marketing team, I worked on promoting our brands, educating the public and creating internal informative resources for both employers and investors, my usual work included storytelling, script writing, video editing, VFX, animation and motion graphics.
At a branch of the current company I worked at the time, I focused on 3D and animations for products and marketing purposes. My daily work was focused on illustration, modeling, rigging, animation, video editing, compositing and vfx. I also coordinated a small team of designers and editors.
Jun 2021 - May 2022 (part-time)
As a producer of educational and instructional video lessons for corporations, schools and public institutions I coordinated a team of editors and animators in both footage and animation projects. My work consisted of project planning, video editing, motion graphics, rigging and animation, and occasionally studio directing, lighting and shooting.
Jun 2021 - May 2022 (part-time)
Responsible for the agency's video department, I wrote scripts, coordinated photography and video shootings, managed live streams, produced motion graphics and animations and also edited video for social networks, ads and publicity campaigns.
Aug 2019 - May 2021 (full-time)
Working mostly with video editing for publicity campaigns, social networks and TV ads, I took a more filmmaking approach working at OldMonkey as I focused on framing, editing, color grading, sound design and other more technical aspects of video editing.
Oct 2017 - Aug 2019 (full-time)
I worked on film productions for Sony Pictures, Buriti Filmes and Globo as an editor, composer and animator. In the marketing industry, I directed, shoot and edited commercials for banking and investment companies. And on a more musical approach, I produced short documentaries and music videos for several Brazilian bands, notably Anavitoria, Tiago Iorc, Manu Gavassi and Scalene.
short contracts (freelance)
I worked in a small team capturing video, photo and audio on corporate events, weddings and concerts, and also edited the whole content produced.
Feb 2012 - Aug 2016 (part-time)
A C A D E M I C E D U C A T I O N
Research: Lightning mapping joint research with LOFAR group of Kapteyn Astronomical Institute, Groningen University, The Netherlands.
Specialization areas: Plasma physics, Astrophysics, Radio astronomy, Relativity, Cosmology.